100th Anniversary Silver Dollar Set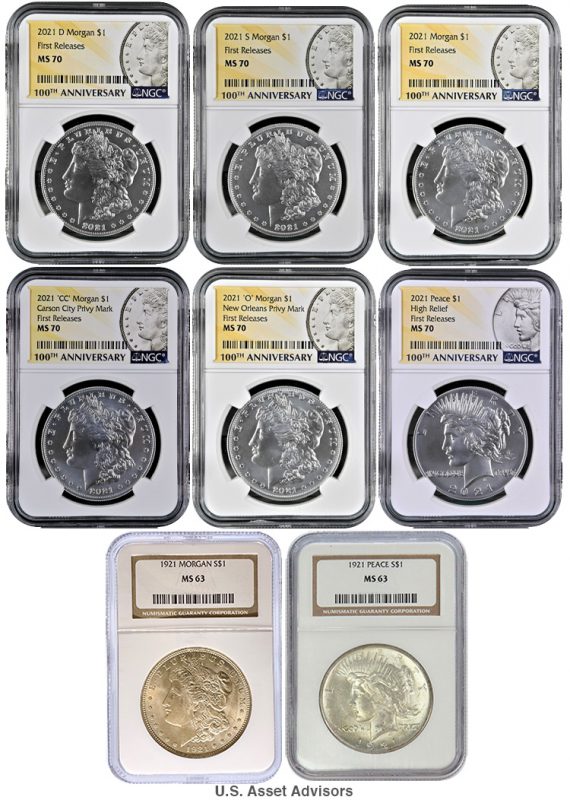 100th Anniversary Set
Eight Coins
A hundred years ago, the U.S. Mint struck the final issue of the Morgan Silver Dollar and the inaugural strike of the Silver Peace Dollar. 
This beautiful collection of history contains all eight coins: one 1921 Morgan Dollar and one 1921 Peace Dollar certified by NGC in MS63 condition as well as six 2021 coins all certified a flawless grade of MS70.
Qty
Wire/Check
CC
1+

$

3,895.21

$

4,012.07
RESERVE YOURS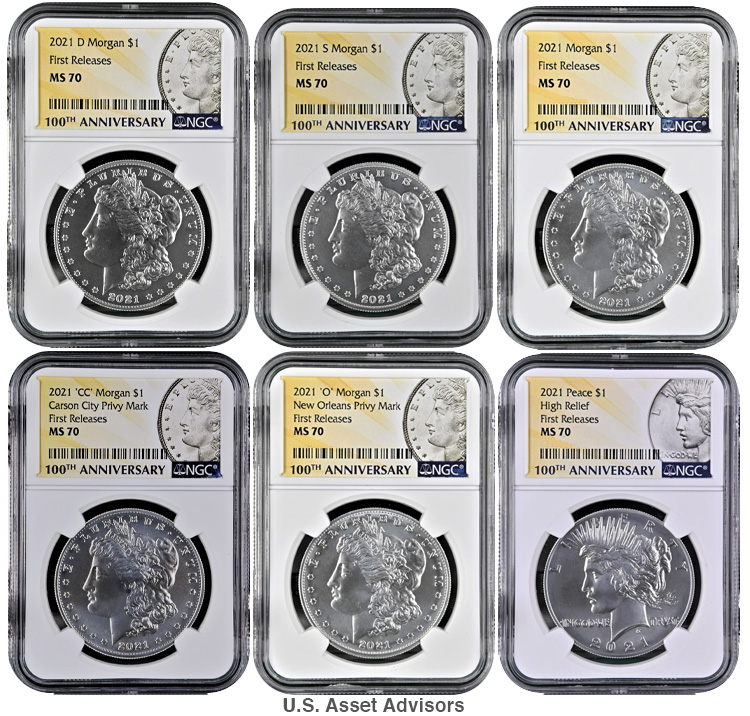 2021 Mint Mark Set
Six Coins
All five 2021 Morgan Dollars representing the five Mints they were struck at originally and one Peace Dollar in a single set graded MS70 by NGC.
Qty
Wire/Check
CC
1+

$

1,995.34

$

2,055.20
RESERVE YOURS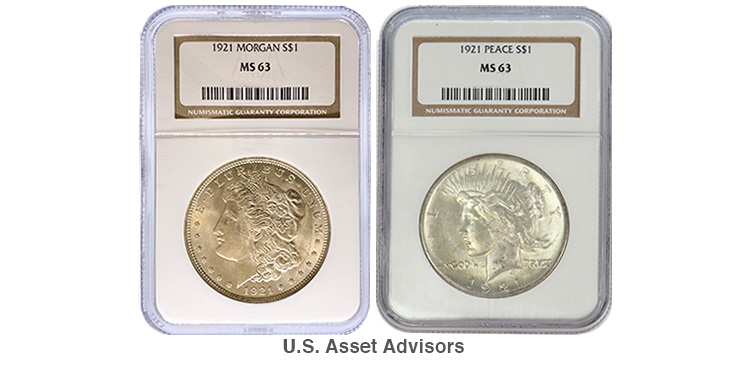 1921 Centennial Set
Two Coins
Beautifully preserved uncirculated coin set that includes both the 1921 Morgan Dollar and the 1921 Peace Dollar graded MS63 by NGC.
Qty

Wire/Check

CC

1+

$

1,995.34

$

2,055.20
RESERVE YOURS
WHY IS THIS SET IMPORTANT?
The story behind this special year in U.S. Mint history is fascinating in that it's the only time a single denomination coin featured two designs in the same year. In 1921, while the details of the Peace Dollar were being finalized the Morgan Dollar, which was struck from 1878 to 1904, was brought out of retirement for a single year release. Once the Peace Dollar was ready for minting, the Morgan retired once again and paved the way for the Peace Dollar's 9-year run.
As we rolled into 2021, it marked 100 years since that time in history we had two different dollar designs. It was announced that the U.S. Mint would be re-releasing the Morgan Dollar and the Peace Dollar to commemorate the 100th Anniversary of this occasion. We couldn't be more thrilled because these are two of our favorite coins. The decision was made that U.S. Asset Advisors would curate a limited number of sets of these coins to be available to our rare coin clientele with discerning taste.
Quality is our top priority so it goes without saying, if you are able to acquire one of these sets for your collection, you'll be very pleased with the eye appeal. This is another reason there will be limited supply of these sets. It's not easy to curate coins from 100 years ago that retain higher than normal quality.
If you have any questions about these sets or would like to make sure you're one of the few to add one to your collection, call us at 833-872-7738.
Client privacy is our top priority. We do not disclose any information that would violate the trust of our clients. Transactional information as well as contact information will not be shared with anyone or anywhere as protected by law.